First Turkish Heat Eye installed at Park Teknik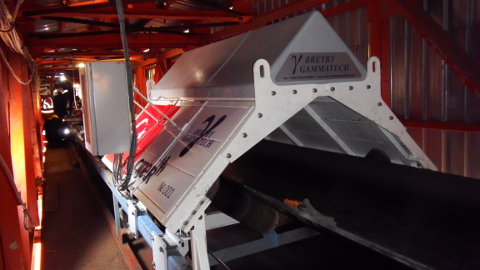 Bretby Gammatech alongside our Turkish agent MTM Makina installed the first on-line system for Park Teknik at a site situated 4 hours drive from Ankara near Tavsanli.

The Heat Eye is going to measure tonnes per hour, ash, moisture and CV, with second by second data being transmitted to Bretby Gammatech's proprietary remote monitoring software Eye Graffix in the control room. It is planned to transmit this data securely via the internet back to the Bretby Gammatech offices in the UK and to the forthcoming exhibition at Izmir in May 2015. By transmitting the data Bretby Gammatech can provide constant monitoring and updating of the system without the need to visit the site in Turkey. Contributing to our reduction in CO2 emissions which is a KPI of the PEGL's ISO14001 compliance. Hopefully this is the start of Bretby Gammatech's presence in the Turkish market.

As can be seen in the photograph the Heat Eye shield was vinyl wrapped with the Turkish Flag, Bretby Gammatech's and CINER the purchasing company's logos.